The coronavirus pandemic has a lot of us thinking more deeply about matters of life and death.
Advocates say it's a good time to ensure that your wishes will be followed if you do need end-of-life care.
"I think for the first time, people are in touch with their own mortality," said Joan Weddle, a licensed social worker for home care at Home Health & Hospice Care in Merrimack. "Everybody's at risk."
"This is your opportunity to maintain control over your health care, to ensure that you get what you want if you can't speak for yourself," said Weddle, a passionate advocate of advance directives.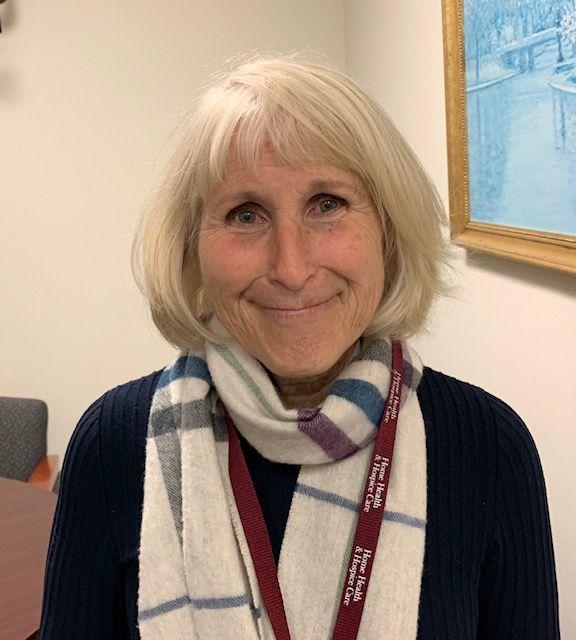 In New Hampshire, advance directives include two parts: a Durable Power of Attorney for Health Care, which designates an agent to make medical decisions for you if you cannot speak for yourself; and a Living Will, which specifies what level of medical intervention you wish if you are near death or permanently unconscious.
"For people who don't want extraordinary measures taken, it's more important to complete these, because they will use all the devices when they don't have a direction to do otherwise," Weddle said.
Making your wishes clear is a gift to your family, said Janice McDermott, director of hospice and palliative care for the Home Care, Hospice & Palliative Care Alliance of New Hampshire. "Because the family doesn't have to guess what you would want," she said. "There's a lot of agony around that."
McDermott said she has heard from doctors and nurses on the front lines of the pandemic that they're having to have these conversations with very sick patients. That's not the best time to talk about it, she said.
These documents are not just appropriate for seniors, Weddle said. She signed hers for the first time when she was in her late 20s and recently updated them, she said.
"If you're a 30-year-old and you're in a devastating car accident, there is nothing to indicate what you would want and what you don't want unless you have these documents done," she said. "So whether you're 21 or 101, you need these, and that's something that people don't think about."
McDermott, who also serves on the Health Care Decisions Coalition for New Hampshire, said the coronavirus crisis is making the public more aware of end-of-life issues than ever before. More people are hearing about ventilators, for instance, and of the possible negative consequences of being on one.
That's why signing advance directives is especially important now, she said. It's a process of choosing "goals of care," she said. "It's about your wishes."
McDermott wants these conversations to begin with young adults. But she said there's almost a superstition around talking about end-of-life care: "If we talk about it, we might need it."
Weddle agreed. "We live in a youth-oriented culture, and talking about death is a cultural taboo," she said.
Fear of death is understandable, she said. "It is the ultimate out-of-control moment for all of us." But advance directives can give you more control over your final days, Weddle said.
The case of Terri Schiavo, a 26-year-old Florida woman who suffered irreversible brain damage after a medical crisis in 1990, triggered a lengthy court battle and launched a national conversation about the "right to die" and disabilities rights. The case also "catapulted the medical community into looking at clearer and more formalized ways for these decisions to be made and followed through," Weddle said.
Still, 15 years after Schiavo's death, only about a third of all Americans have advance directives, McDermott said. The percentage is higher among hospice patients, "because they are thinking about it," she said.
Both experts said choosing an agent to speak for you if you can't speak for yourself is the most critical step.
"It may not be the obvious person," McDermott said. "If I know my spouse is going to be too emotional to do that, or if I know my oldest child isn't the right one … we need to think about who do I trust that understands and will be able to have that conversation."
It's important to talk with your agent about what you want. "They may have to make some decisions that you can't write out in these documents," she said. "So if you have those conversations about what you value and what compromises you're willing to make to have longer life, then that person has a good basis for how to care for you."
Advance directives are meant for the final days of life, Weddle said. The documents have to be "activated," either by two doctors or by a doctor and a nurse practitioner, who certify that the patient is actively dying or permanently unconscious with no hope for a change in status, she said.
Until then, she said, "They're just paper."
And you can change your advance directives at any time, "as long as you are deemed as having the capacity to do that," Weddle said.
One section of the Living Will document allows you to include other issues that are important to you, such as religious beliefs or specific instructions. Weddle worked with one hospice patient who wanted medical intervention for a period of 48 hours only, "so that family members would have time to come and say goodbye," she said.
Experts say it's really important to make sure all the right people have copies of your advance directives. That includes your agent, family members, primary care provider, local hospital and any specialists you see. They also advise keeping an extra copy on the refrigerator; EMTs are trained to look there for any medical directives.
For people who have always been healthy, end-of-life care is not usually on their radar, Weddle said. But the coronavirus pandemic may be changing that.
"Things happen and we do need to be prepared for that," she said.
"Or we lose our choice."
Original article can be found here.