Marie Curie's new ad raises the question of whether living while you're dying is possible. Have you seen it on TV or social media yet?
The new ad shows the experiences of a range of people living with an illness they're likely to die from, and the people closest to them.
This includes a son talking with his mother about death, a couple fulfilling a last wish by getting married in a Marie Curie Hospice, and a woman being helped with breathlessness. It also shows Marie Curie Nurses and healthcare professionals supporting them to live the best life they can, right to the end.
We spoke to the people we support, and our staff, to gather stories of the care Marie Curie provides. Every story you see is based on real people's experiences.
The ad asks whether living while you're dying is possible. And it gives our answer: yes. We believe that living while you're dying is possible, and that it's our job to help make that happen. While we can't change the outcome, we can help make people's end of life experience the best it can be.
We've made this ad to make sure that people know about the support we offer so they can get the care they need. We've done this by showing real stories of people that Marie Curie, day in and day out, help to live the best life they can, for as long as they can.
Above all, we want people to know that wherever you are, whatever the illness, we're with you to the end.
Watch our new advert…
Are those real Marie Curie Nurses in the ad?
Many of the people you see are real Marie Curie Nurses and Healthcare Assistants. This includes Isaac Otengo, Marie Curie Nurse; Marlene Bayuga, Marie Curie Healthcare Assistant; Cherry Rowland, Community Healthcare Assistant; and Rekha Vijayashkar, Marie Curie Nurse.
We're the largest charitable employer of palliative care nurses and professionals in the UK. End of life is our specialism.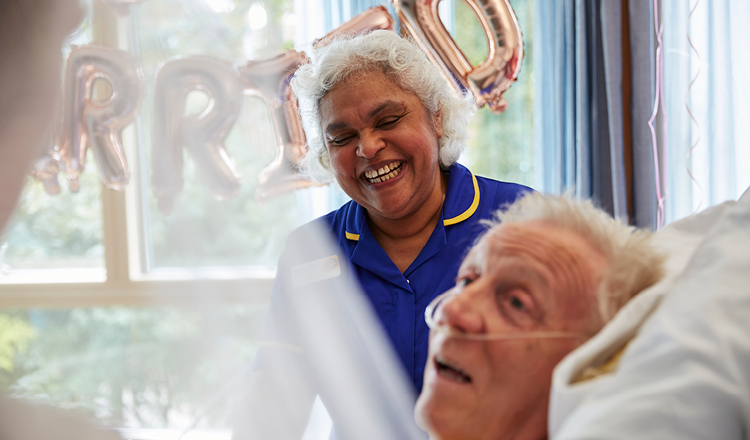 Other nurses in the ad, and the people receiving care and their families, are played by actors.
Can Marie Curie really help with the types of things shown in the ad?
Yes. Marie Curie staff are experts in end of life care, helping to manage your symptoms and make sure you're comfortable. But they also focus on whatever's important to you. That might be helping you fulfil a final wish. It could be providing useful information via our Support Line. Or it might just be helping you do your hair. What matters most to you matters most to us.
A good end of life experience will be different for everyone. That's why we employ a range of people, from companion volunteers and Energy Support Officers to Marie Curie Nurses, so you can live the best life possible, right to the end.
What's the song in the advert?
The song is By My Side by The Paper Kites (feat. Rosie Carney).
Can I share the ad?
Of course! Remember to tag us @MarieCurieUK when you do.
————————
Republished from https://www.mariecurie.org.uk/blog/marie-curie-tv-advert/51238