Two friends, Phil Stephenson and Mark Vanhegan, have walked an historic pilgrims' route of over 1,500 miles in three months to raise more than £10,000 for Bolton Hospice.
Phil, a solicitor with KBL in Bolton, and Mark, a King's Counsel who lives in Sussex, first met 33 years ago on their travels. They shared a love of walking but also, sadly, they ultimately each shared the loss of a much-loved mother to ovarian cancer.
Phil's Mum, Sue Stephenson, was a well-known local walker through the Ramblers and Holiday Fellowship organisations. She became ill and died during lockdown and the Hospice at Home team were among pivotal professionals who helped care for her during her final weeks.
"They were amazing. The sheer care and concern made all the difference. They gave my Mum dignity and respect and we were very grateful."
Phil wanted to give something back to the hospice. Mark had the same thoughts about his own local hospice in Oxfordshire, which helped care for his mother Valerie Vanhegan, and the Eve Appeal raising awareness of gynaecological cancers.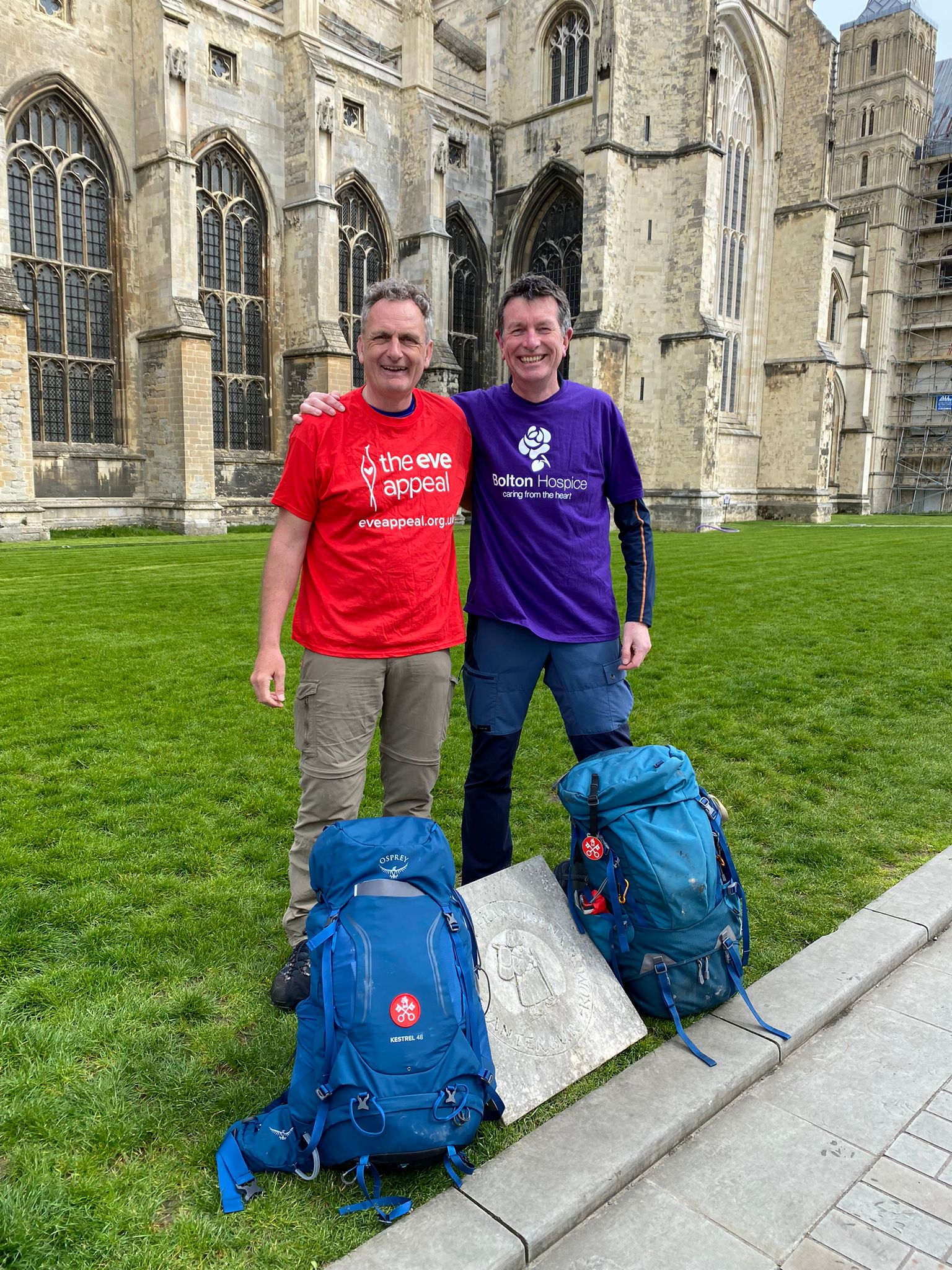 Their love of walking led them to discover an historic pilgrims' walk taken by Alfred the Great in the year 853 from Winchester to Rome.
Their plan was to set off on Good Friday (April 7) from Winchester on the Pilgrim's Way and then take St Swithun's Way to Farnham and on along the North Downs to Canterbury to pick up the Via Francigena – an ancient pilgrimage route. They would then walk through France and into Switzerland on the route, over the Alps via the Grand St Bernard Pass to Italy and on to Rome.
However, this very quick description hid a huge physical and mental challenge, all needing to be accomplished within 90 days, thanks to Brexit.
Although Phil, aged 55, and Mark, 57, were both experienced walkers they had never tackled anything remotely this tough. However, they had strong motivation, good boots, three sets of clothes and the weather proved kind when Good Friday came around. They kept up a solid daily walk rate of 25 km (around 15 and a half miles) a day, planning their hotel stays ahead.
The scenery both here and in Europe was "stunning" but the relentless walking day after day took its toll on their legs and both suffered painful shin splints. Those good boots, too, bore the brunt of the changing terrain. During the walk, Mark got through three pairs and Phil two.
They entered Rome in temperatures of 42 deg C with days to spare on their itinerary to meet family members in a joyful reunion.
The two men are delighted with the support from family, friends and colleagues in raising a total of more than £40,000 for the three charities.
"It was wonderful to be able to do this to raise money for the hospice. I think my Mum would have been quietly very proud of us."
—————————