Fundraiser Kate Francis started the challenge on Monday, the 21st of August, and cycled 30 miles each day for six days, with one rest day to raise vital funds for local hospice care.
Kate started the challenge in Gainsborough and completed the trail in Louth, stopping at each of the 30 HeARTs that together form the St Barnabas Hospice HeART Trail.
After spotting the 'Seals of Approval' heART sculpture whilst visiting her family in Sutton on Sea, Kate decided on impulse, at 11pm, to embark on a training programme to cycle the entire 160-mile route to raise money for St Barnabas Hospice.
Although Kate claims not to have previously done this kind of challenge, she loves any outdoor pursuits.
Kate said: "I love being outdoors, so any activities that involve being outside bring me joy and are great for my mental health. Exercise isn't something I make myself do; it is a byproduct of doing something that brings happiness and feeds my soul.
"I wasn't a cyclist before I started training for this challenge. I had an old bike that I used very occasionally.  But now I love how cycling makes me feel free. It has shown me how much I am capable of."
With the help of supportive friends and family, Kate has borrowed a touring bike and has organised to stay at campsites around the county for free or at a reduced rate, as the stay is for charity. St Barnabas Hospice Fundraiser Chris has also been on hand to help.
Kate added: "I want to thank Chris, who has supported me with great communication, helping me if I needed it with planning and with the branded kit to advertise my training and cycle challenge. He's also joining me on leg one of the cycle from Gainsborough to Lincoln!"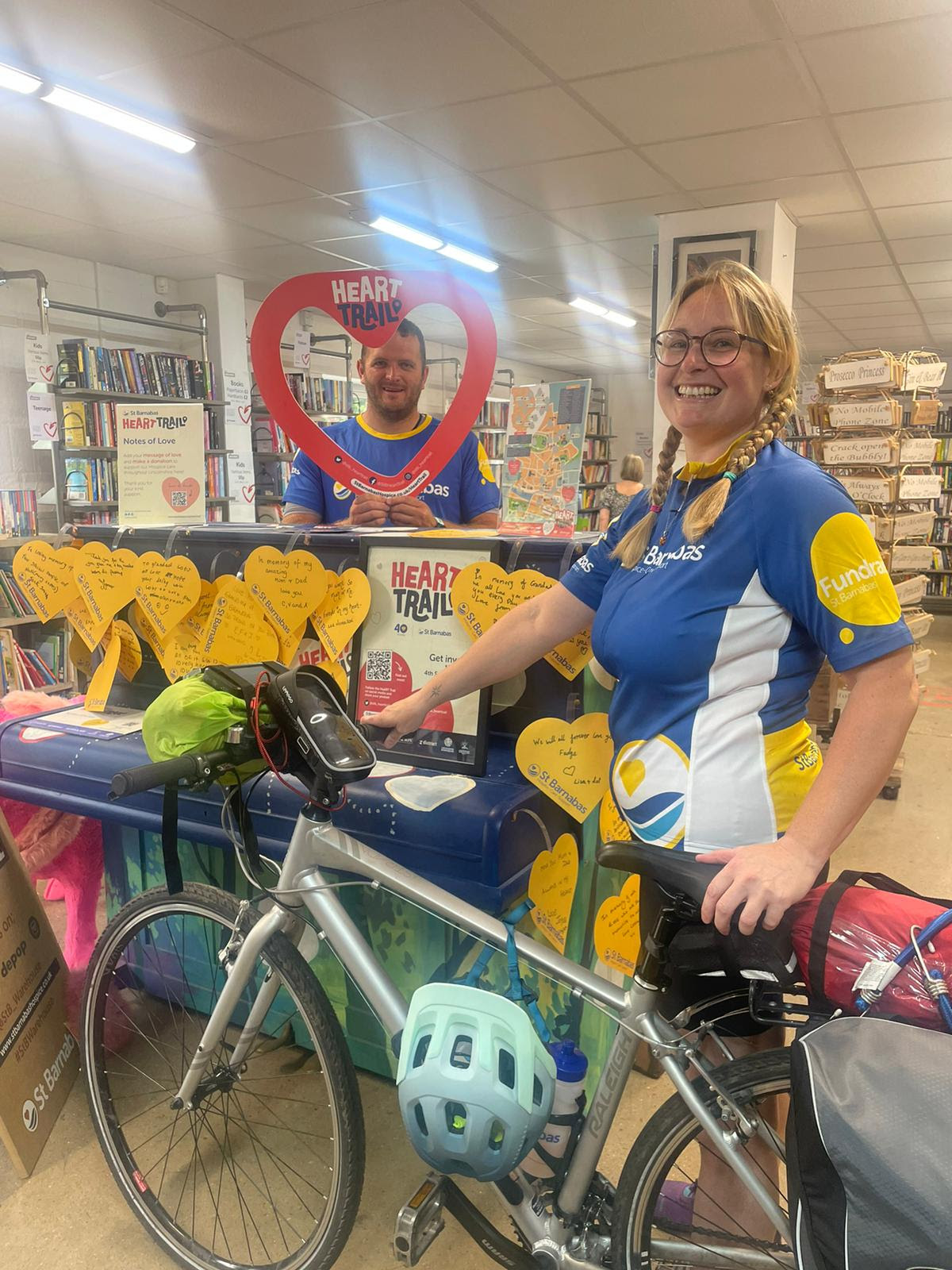 Kate's cycling itinerary was as follows: Gainsborough, Lincoln, Grantham, Spalding, Boston, Skegness, Chapel St Leonards, Sutton on Sea, Mablethorpe and finishing at Louth.
Having already hit her target to raise £500, Kate hopes to raise more.
"St Barnabas came into our family's life at the beginning of this year when we needed support for a very close family member. They are supporting my family member with weekly visits from nurses. They have provided much-needed help and support, including clinician visits and occupational therapy.
"They have helped with prescriptions, appointments and equipment. We wouldn't be in such a supportive and good position without them. They have helped make a horrid situation feel supported. We are so grateful to help for their continuing support."
St Barnabas Hospice relies on fundraising activities and donations to continue providing care to those living with life-limiting or terminal illnesses. Their care also extends to patients' loved ones and families.
If you would like to show your support to Kate, you can find her on Instagram @kate-cycles-heart-trail or by donating via her JustGiving page at https://www.justgiving.com/page/kate-cycles-heart-trail.
—————————————
St Barnabas Hospice is a local independent charity, and every year they support more than 10,500 people across Lincolnshire.
They deliver free, high-quality, compassionate end-of-life care and support to people living with a life-limiting or terminal illness, their family and carers.
St Barnabas offers the patient and their family hospice care and support via specialist inpatient care, care at home, day therapy, physiotherapy, occupational therapy, complementary therapy, welfare advice and bereavement support.
All the services are free. St Barnabas needs to raise over £6m a year to provide its support and care. Over 900 volunteers play a crucial role in the charity's success.