Once their HeART Trail has ended, St Barnabas Hospice will be hosting an auction of eleven HeART Trail sculptures on the 28th of September at the Lincoln Museum.
This summer, St Barnabas Hospice is spreading joy and awareness of hospice care through their HeART Trail. Thirty beautiful heart-shaped sculptures are currently on display around Lincolnshire for families to enjoy until 4th September, with Trail guides and maps available to purchase from the Hospice's 25 charity shops.
Once the Trail ends, the Lincoln Museum (formerly The Collection) will be hosting a HeART Reunion exhibition from the 12th until the 28th of September, where people can see all the sculptures in one place.
On the last evening of the Reunion, the museum will host an auction of eleven HeART Trail sculptures. Tickets for this exclusive event have just been released via the charity's website.
Caroline Swindin, Head of Fundraising & Lottery at St Barnabas, said: "Bidding on one of our Trail sculptures is an amazing opportunity to support local hospice care and obtain a unique 'HeARTwork'.
"We organised the HeART Trail to show our love for the communities that we serve every day, with over 12,000 people receiving our care annually. The Trail has seen massive amounts of people take part so far, and we hope the auction will be a huge success too.
"We want to raise as much as we can, so if you're interested in art and supporting a local, independent charity, don't miss out. If you can't make it to the auction, we have a proxy bid form you can complete on our website.
"Apply for tickets for the HeART Trail auction and get your bidding paddle in the air!"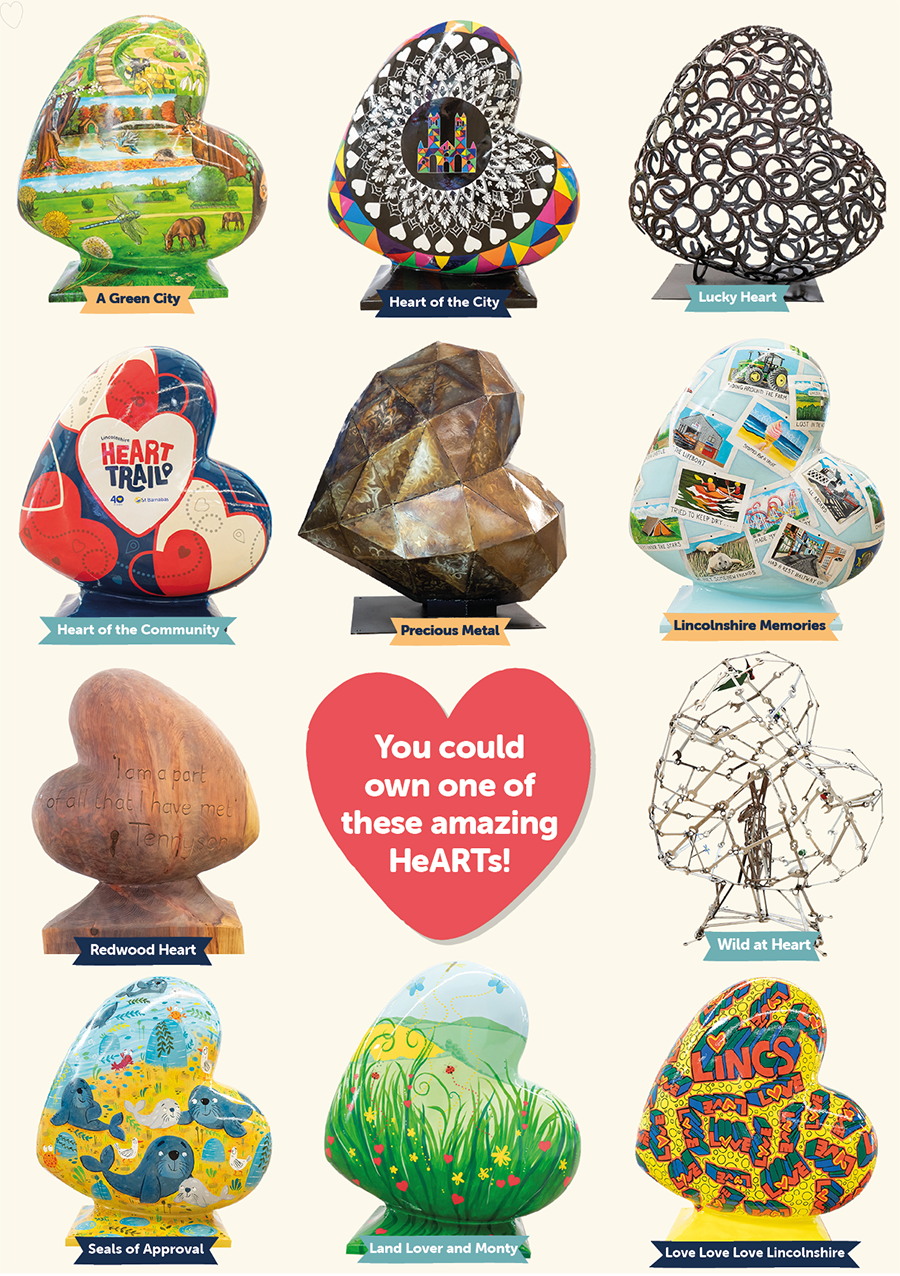 The bidding for each of the HeARTs up for auction will start at £3,000, with some of the bespoke metal and wooden sculptures expecting to raise over £10,000 each.
All funds raised on the night will go to St Barnabas so that the hospice can keep caring for people around the county with life-limiting and terminal illnesses. If a total of £50,000 is raised, they can fund a nurse for a whole year to provide vital care in patients' own homes.
Space in the Lincoln Museum is very limited, with only a few dozen tickets available at £15 each, including welcome drinks and canapés. St Barnabas kindly asks people to purchase a ticket only if they are interested in bidding on the night.
St Barnabas thanks the Lincoln Museum for hosting the auction, Brown& Co JHWalter for running the evening's bidding, and HeART Trail sponsors Tipsy Imp for providing the auction's drinks reception.
To find out more and buy tickets to the HeART Trail auction on 28th September, visit https://stbarnabashospice.co.uk/hearttrail/auction/.
——————————-
St Barnabas Hospice is a local independent charity, and every year they support more than 10,500 people across Lincolnshire.
They deliver free, high-quality, compassionate end-of-life care and support to people living with a life-limiting or terminal illness, their family and carers.
St Barnabas offers the patient and their family hospice care and support via specialist inpatient care, care at home, day therapy, physiotherapy, occupational therapy, complementary therapy, welfare advice and bereavement support.
All the services are free. St Barnabas needs to raise over £6m a year to provide its support and care. Over 900 volunteers play a crucial role in the charity's success.
​