Professor Eduardo Bruera MD FAAHPM has been awarded a Fellowship of King's in recognition of his exceptional fundraising for King's
Cicely Saunders Institute
and for the continuous academic and strategic leadership he has provided to the King's community.
A world leader in palliative care
I am delighted to have received a Fellowship of King's. As a close friend and collaborator of Dame Cicely Saunders, I supported the initial fundraising for the Cicely Saunders Institute at King's College London.

Now that the Institute has been established for over a decade, I am honoured to continue to shape its future direction and to the mentor researchers who become the palliative care leaders of the future.

Professor Eduardo Bruera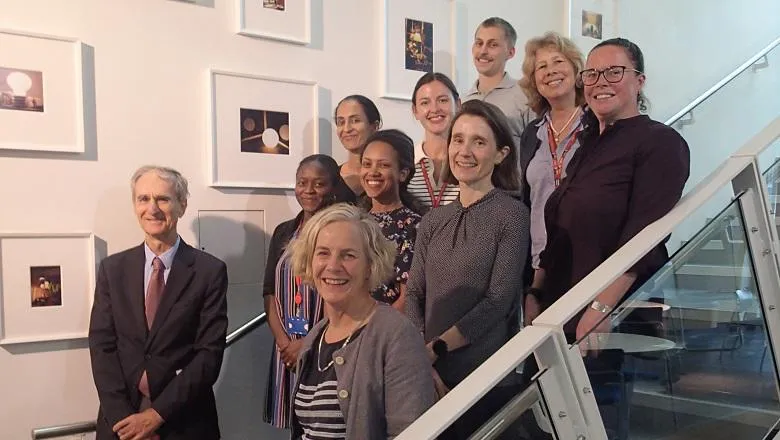 Back row L-R: Dr Sabrina Bajwah, Dr Anna Peeler, Harry Watson, Professor Irene Higginson and Dr Katherine Bristowe. Middle row L-R: Dr Adejoke Oluyase, Nuhamin Gebre and Professor Katherine Sleeman. Front row L-R: Professor Eduardo Bruera and Professor Catherine Evans.
Professor Bruera's work on cancer cachexia has opened new lines of treatment and his work on pain management has increased the availability of pain medicines for those who need them.
He pioneered and built a spring loaded syringe driver for use in countries where batteries were scarce and was one of the first to research treatments for breathlessness in cancer.
Through his collaborations with both the World Health Organization (WHO) and the Pan American Health Organization, Professor Bruera has contributed to the development of palliative care around the world. The Edmonton Symptom Assessment Scale (ESAS) he developed is now used across the globe and has been translated into more than twenty languages.
Professor Bruera is one of the most important people globally in palliative care. In addition to this immense contribution to the field of palliative care internationally, Professor Bruera has devoted time over his career to guiding and advising the development of the world's first purpose-built Institute of Palliative Care – the Cicely Saunders Institute of Palliative Care, Policy & Rehabilitation – at King's College London.

Professor Irene Higginson, Executive Dean, Faculty of Nursing, Midwifery & Palliative Care
Training others have defined Professor Bruera's career. Over the years, he has trained hundreds of physicians who are currently practicing palliative care and oncology around the world.
Celebrating Professor Irene Higginson OBE
Professor Bruera's was awarded his Fellowship of King's during a King's graduation ceremony held in Royal Festival Hall. In the same ceremony, Professor Irene Higginson, Executive Dean of the Faculty of Nursing, Midwifery & Palliative Care was also awarded a King's Fellowship.
Professor Higginson is the founding Director of the Cicely Saunders Institute of Palliative Care at King's College London and a Clinical Academic Professor of Palliative Care. Her Fellowship of King's recognises her leadership at the University, her leadership in palliative care education and research, and her truly transformative work in the clinical practice of palliative care.
About the Fellowship of King's
The Fellowship of King's dates back to 1847 and is awarded to individuals who have or have had a transformative impact on the university through the quality of their work or activities. The fellowship's are awarded by the Rt Hon the Lord Geidt, Chairman of King's College Council in recognition of exceptional achievement or service to King's.
——————————
Lead photo caption: Professor Irene Higginson and Professor Eduardo Bruera